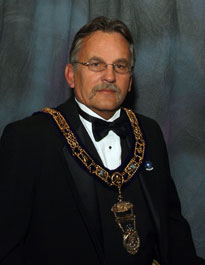 Donald H. Yankey
Most Worshipful Grand Master
Grand Lodge of Kentucky
2010-2011
Donald Howard Yankey was born to Faye and Howard (Midget) Yankey on September 20, 1955 in Lebanon, Kentucky. He was one of six siblings, attending Lincoln Trail Elementary School and East Hardin High School.
In his teenage years he played the trumpet in the marching band, and helped on his brother?s farm grooming horses. A short time later, Don began his employment at Ford Motor Company.
It was during this time he received his Master Mason Degree on April 17, 1981 thru Aurora Lodge #633. After receiving his degrees, he was placed on the night shift at work and unable to attend Auroras' Lodge Meetings.
His masonic brothers at work invited him to McNeil Lodge #586, who met on Saturday Evenings. This led to a petition for dual membership, where he ascended the chairs and became Master of the lodge in 1987. His Masonic involvement was rewarded by being asked to be the District Deputy Grand Master of District #17 for Past Grand Master Floyd Booth.
In February 1991, Donnie and Janice were married and have raised two wonderful children, Tammy Lynn and Michael Cory. They have welcomed a son in law, Bobby and a daughter in law, Amy to the family. Following the marriage of these happy couples, came the grandchildren, Madison, Austin, Elliot, Devin, Ethan and Landon. Donnie and Janice enjoy riding on his Harley, camping and sleep-overs with the grandkids.
Following Don's retirement from Ford Motor Company, after 30 years of service, he continued his masonic activities becoming Master at Aurora Lodge in 2007. His other Masonic affiliations include : York Rite Chapter and Council in Bullitt County, Commandry in Jefferson County, Scottish Rite of Louisville, Kosair Shrine, Central KY Past Master Society, South Central Past Master Society, National Sojourners, and Order of the Eastern Star #183.
Most Worshipful Grand Master, it has been a pleasure having known you over the years. In fact, I knew you when you were a teenager. I remember helping you get a job at Ford Motor Company. And you haven?t had much use for me since. HAHA! But I was proud to have you as a former son in law, and turning your petition in to Aurora Lodge #633. Then after you were accepted, I had the pleasure of lecturing you. ( Never dreaming that one day you would be the Grand Master of The Grand Lodge of the State of Kentucky)
Brother Don and I have a wonderful relationship. I remember one day he called and asked me about my honest opinion about running for Grand Junior Warden. And I told him that was all that I would do is give him my honest opinion. Then I said the first thing he should do is have a Heart to Heart talk with his wife, because he was going to be burning a lot of midnight oil and losing a lot of good sleep.
I am proud to call you our Most Worshipful Grand Master, and soon to be our Most Worshipful Past Grand Master. May God Bless You, wherever you may go.
Faternally Thine!