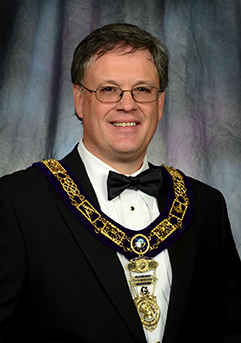 Cloyd J. Bumgardner
Most Worshipful Grand Master
Grand Lodge of Kentucky
2015-2016
One of the joys of my years in masonry has been watching members advance both as masons and as good citizens. Cloyd Jeffrey Bumgardner, Jeff (as I know him), has made me particularly proud, and it is an honor to be able to write this historical biography.
Cloyd Jeffrey Bumgardner was born in Lorraine, Ohio to Lois and the late Cloyd Otis Bumgardner on February 4, 1964. Six months later the family moved back to Pulaski County, Kentucky where both parents were born and reared. Jeff has one younger sister, Tamara Lynn Bumgardner, who is married to William Reed Clements. Cloyd graduated from Pulaski County High School in 1982. He attended Eastern Kentucky University receiving a B.S. in chemistry in 1987 and an M.S. in biology in 1990. Cloyd completed both his Principal and Superintendent certification in 1993.
Cloyd has devoted his professional life to education first in the Pulaski County School System, then the Calloway County System and finally the Somerset Independent School System. He served as a chemistry and biology instructor from 1990 to 1993 before becoming an Assistant principal in 1993. He advanced to becoming Principal of Calloway County Middle School from 1994 to 2001. He moved back to Pulaski County to serve as Principal of Meece Middle School in the Somerset Independent School System from 2001 to 2006. He has served as an administrator in the Central Office of the Somerset School System since 2006.
Cloyd attends the First Baptist Church of Somerset. He was active in the Lions Club in Murray and is now active in county politics in Pulaski County, currently serving as the Chair of the Pulaski County Republican Party. For recreation, he loves hunting, fishing, and motorcycle riding. He is also a Masonic history buff. Cloyd was initiated as an Entered Apprentice into Woodstock Lodge # 639 on July 24, 1993, passed to the degree of a Fellowcraft on August 28, 1993, and raised to the sublime degree of a Master Mason on September 25,1993. He regularly moved through the chairs and was elected as Master for 1999. Additionally, he is a member of William O. Ware Lodge of Research #999 and an honorary member of numerous lodges.
He was selected by Grand Master, Roger Barnett, to serve as the District Deputy Grand Master for the 2001- 2002 Masonic year. He served the Grand lodge on the Committee on Masonic Education, 2000-2001, 2003-2007; the Committee on Public Relations, 2007-2008: and the Committee on the National Masonic Model 2008-2009 He was appointed as Grand Pursuivant, 2002-03 and Grand Marshal, 2011-2012. Cloyd was elected Grand Junior Warden, 2012-2013; Grand Senior Warden, 2013-2014; Deputy Grand Master, 2014-2015; and Grand Master, 2015-2016.
Appendant Bodies York Rite: Somerset Chapter #25 Somerset Council #68 Somerset Commandery #31 Scottish Rite: Valley of Lexington, Orient of Kentucky (Life Member) Shrine: Oleika Shrine, Lexington, Kentucky Order of the Eastern Star: Murray Chapter #422 Royal order of Scotland: Life Member
Cloyd has promoted programs for our widows, veterans, the Masonic Homes, and especially youth.
He has initiated a program in which Masonic Lodges provide bicycles to local schools to be given as attendance incentives. This provides a variety of possible benefits including: improvement in school work; increased funding for schools (as funding is based on attendance); increased graduation rates; and promotion of masonry to the public. At the end of July 2016 more than 900 bicycles have been donated.
In order to promote Masonic knowledge, Cloyd caused to be developed a quiz on the Constitution of the Grand Lodge of Kentucky. As of July, 2016, more than 343 brothers have passed the test and received a Constitutional Scholars pin from the Grand Lodge.
Cloyd is a soft spoken gentleman who effectively leads by consensus and persuasion. He has shown a remarkable dedication to the craft, and I remember him making it a priority to drive five hours from Murray to Woodstock to attend lodge on meeting nights. I recently asked him how he maintains his professional activities, civic duties, and Masonic duties. He stated that he maintains 18 hour days. I firmly believe this. While I hope that he can have more free time, I fully expect him to continue to be a strong resource to Woodstock Lodge, the Grand Lodge, and Masonry in general.