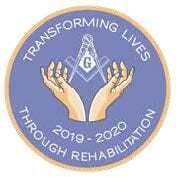 A program to support Masonic Homes Kentucky's
Rehabilitation Program
Most Worshipful Geary Laird, Grand Master, and First Lady, Terri Laird
Since its creation in 1867, Masonic Homes Kentucky has cared for adults and children for over 152
years, with dedicated attention to their quality of life, both while receiving care and afterward. They
serve many individuals who require physical rehabilitation following surgery, falls, strokes, and hip or
knee replacement, to name a few. Top-notch rehabilitation care is critical in helping these individuals return
home to resume their lives to the highest degree possible. To provide that care, however, requires
the best professional staff and equipment available.
The Homes' Louisville and Shelbyville rehabilitation departments have an excellent reputation, yet having
all of the desired equipment isn't always possible, so staff maintains a "wish list" for equipment that
exceeds their typical allowable budget. Their current list includes:
• Bariatric motorized parallel bars to allow larger individuals to utilize the equipment more easily
and effectively (needed for Louisville Campus)
• Vitastim Plus to provide an improved approach for residents with swallowing difficulties. As
many as 50% of long term care residents have some degree of difficulty with swallowing (needed
for Louisville and Shelbyville Campuses).
• Neurogym sit-to-stand trainer to strengthen weight bearing muscles to increase standing ability
and movement, especially in older residents (needed for Louisville and Shelbyville Campuses).
We know that at some point in a person's lifetime, they will have a need for rehabilitation services for
themselves or a family member. For example, members of both of our families have required rehabilitation
– our Mothers (double knee replacements) and Terri's Mother (back surgery for spinal stenosis).
Also, Terri's sister received rehabilitation after a hospital stay.
We feel strongly about supporting Masonic Homes Kentucky's Rehabilitation Department to help people
return to daily life and live in a normal way, therefore, we have chosen to establish a program for
2019-20 we call "Transforming Lives." Our goal is to raise approximately $21,200 to purchase the
equipment described above and have designed a special lapel pin which will be available for a small
$10.00 donation. In addition, lodges, companies, and other individuals may simply make a financial
gift to the program. All gifts are welcome and very much appreciated. Please join us in this exciting
venture!
Thank you for caring enough to help others, and for your participation in helping us reach our goal.
Terri and Geary Laird