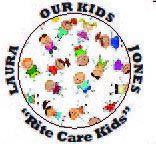 First Lady, Laura Jones, "Our Kids, Rite Care Kids"
First Lady, Laura Jones program this year is " Our Kids, Rite Care Kids". The program benefits the Language centers within the Four Scottish Rite Valleys, Louisville, Covington, Lexington, and Madisonville. A lapel pin, shown above, will be available through each of the Valley Ambassadors, as well as District Deputies. By purchasing a lapel pin, you will be supporting the language centers in each of the four Valley's.
History
In the early 1950's, the Scottish Rite of Freemasonry-Southern Jurisdiction of the United States started a children's speech disorder center in Colorado. The results of this endeavor led to the creation of RiteCare clinics to help children with language disorders. Today, there are 178 RiteCare clinics in the United States.
Eligibility
The basic requirement is preschool children (Ages 3-5) with difficulty speaking or understanding the spoken word. Children in this program require a doctor's order for care. Our services are available regardless of race, creed, or inability to pay.
How You Can Help
Each Foundation relies upon its own fundraising to generate the financial resources necessary to operate the RiteCare centers. Your participation greatly helps this cause.
OUR KIDS, RITE CARE KIDS, THANKS YOU FOR YOUR DONATION……………….