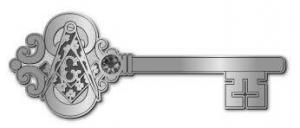 The Key to Unlocking Awareness to Human Trafficking is You!
A program to support PATH Coalition to raise awareness about Human Trafficking.
Most Worshipful James Gibson-Grand Master and First Lady Sam Gibson
First Lady Sam Gibson and I have dedicated ourselves to help potential victims, actual victims, and sur- vivors of human trafficking. We believe an important element is awareness and we have joined forces with the PATH COALITION of KY in an effort to do this.
Human trafficking is the exploitation of another individual for labor and/or sex through the use of fraud, coercion, or violence.
PATH stands for: People Against Trafficking Humans and their mission is to bring awareness of the realities of human trafficking. Their quest is to provide hope and healing to those affected by this mod- ern-day slavery.
Led by a Board of Directors and home-based in Louisville, KY., PATH works with academic, community, and faith-based organizations in an effort to help meet the needs of the survivors of this crime.
They offer education sessions on trafficking, digital safety for youth and young adults, as well as other topics related to the understanding of human trafficking to high schools, colleges, hospitals, and more.
Sam and I have made a commitment to do what we can in the fight against this atrocity toward chil- dren and others. We realize how necessary it is to bring awareness, in hopes that we can help even one person. We believe that assisting the PATH Coalition in their endeavors has the potential to aid so many and prevent others from becoming victims. Sam and I have designed a lapel pin in the shape of a key which depicts not only our slogan, but our belief that "The key to unlocking awareness to human trafficking is you." For a donation of $10.00, this pin can be yours and show that you care about human trafficking. A lodge, private company, or any organization is welcome to make a donation or monetary gift to support the PATH Coalition. We are thankful for everyone that helps us in our fight against human trafficking. Please be the key. If you would like to learn more or have the First Lady speak to you or your organization about human trafficking and/or the PATH Coalition, please contact her at Sam.BeTheK- ey@gmail.com or 606-305-9417.
Thank you for caring enough to help others, and for your participation in helping us reach our goal.
Sam & James Gibson