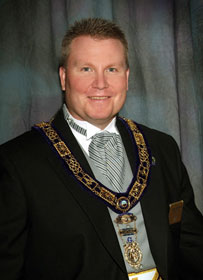 L. Todd Eastham
Most Worshipful Grand Master
Grand Lodge of Kentucky
2009-2010
Most Worshipful Brother L. Todd Eastham was born in Ashland, Kentucky August 6, 1967 to Larry and Leona Eastham. He attended the Greenup County School System, graduating in 1985. He attended Kentucky Christian College, Shawnee State University, and the OSHA Training Institute.Brother Eastham is married to the former Angela Dawn Bowling; they have two children, Kierston Janae and Kaitlin Elizabeth, whom he feels is his greatest accomplishment and reward. A member of Greenup Christian Church in Greenup, Kentucky, he has served the church in several capacities, including coaching the Upward Basketball Program. An avid hunter, he enjoys many outdoor activities, as well as playing the mandolin with family and friends in his spare time,Brother Eastham is the Executive Chairman of McCulley, Eastham & Associates, Inc., an industrial safety and health consulting firm. He is a Board Certified Safety Professional and Industrial Hygienist. He sits on National Standards and World Consensus Standards Committees and has authored numerous articles in his field. He consults on a wide variety of safety and health issues for his field staff, customers, and the Department of Labor as well as other governmental agencies. He also leads the Tactical Emergency and Rescue Branch of the company, which offers emergency response, fire, and rescue related training and response.Brother Eastham was initiated as an Entered Apprentice in Greenup Lodge # 89, F. & A.M., Greenup, Kentucky on March 9th, 1996 and served as Master in 2003. He has served the Grand Lodge of Kentucky as a member of the Awards Committee under Most Worshipful Past Grand Master Patton R. Hart. Elected to the office of Grand Junior Warden in 2006, he has advanced through the progressive offices of the Grand Line, and serves the Craft in 2009-2010 as Most Worshipful Grand Master of the Grand Lodge of Kentucky, Free and Accepted Masons.Brother Eastham is a Life Member of the Valley of Covington A.A.S.R, where he served as Senior Warden in the Delta Lodge of Perfection and is a Past Commander of the Scots Guard. His York Rite memberships include Apperson Chapter # 81, R.A.M., Everett Council # 65, R.&S.M, serving as Illustrious Master; and Ashland Commandery # 28, Knights Templar. He is a member of Electa Chapter # 3, Order of the Eastern Star. He is a member of El Hasa Shrine and the Hillbilly Clan #1. In addition, Brother Eastham was invested with the Knight Commander of the Court of Honor in November of 2007 and the Royal Order of Scotland on August of 2008.Brother Eastham?s rise through the ranks of the Grand Lodge line is a result of hard work and determination. His love for the Craft extends through to the Masonic Widows Initiative, which accents remembrance of our obligations and duties to our widows. During his term, his work on the Board of the Masonic Homes of Kentucky has led to a program called Select Home Care Options; a pilot program that will enable our older generation to be provided healthcare needs locally, enabling them to receive medical and life attention at home instead of having to enter a care facility. He maintains a businesslike approach to the operation of the Grand Lodge, and is a leader who exhibits love for the Fraternity. His company?s slogan ?Safety made Simple? mirrors his approach as leader of our gentle craft as we attend to the basic reasons each of us became Masons.