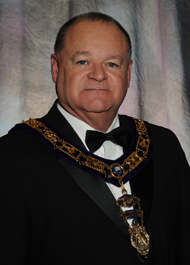 Terry L. Bowman
Most Worshipful Grand Master
Grand Lodge of Kentucky
2011-2012
Brother Terry Bowman was born in Grayson County Virginia, resided in North Carolina for nine years, moved to Louisville, Kentucky in 1972. He attended schools in Virginia and North Carolina and graduated from East Forsyth High School in North Carolina in 1971.He graduated from a Leadership Development Program at the University Of Kentucky. He also has received from the University Of Louisville their Labor/Management Award. He has been employed for thirty-five years at the Lubrizol Corporation (formally B.F. Goodrich) in Louisville, Kentucky.
Brother Bowman has two sons, Joshua Bowman and Chris Wilson. He is a member of New Salem Baptist Church and sings in the choir.
Brother Bowman was raised to the Sublime Degree of a Master Mason in Valley Lodge #511, F.&A.M. in 1976and was Master in 1985 and served as District Deputy Grand Master in 1991. He is a member of King Solomon Chapter #5, Louisville Council #4 and Louisville DeMolay Commandery #12 of the York Rite Bodies. He is also a member of the Scottish Rite, having served as Wise Master of the Louisville Chapter of Rose Croix and Master of Kadosh of the Louisville Consistory. He was conferred the Thirty Third Degree in 1999. Is a member of the Royal Order of Scotland and is currently serving as their Secretary in Kentucky. Is Past President of the Past Masters Society of Central Kentucky. Also a member of the Kosair Shrine, serving on the Ritual Cast, Past Masters Unit and Golf League.
Brother Terry, it has been a pleasure to have known you through the years, also for the honor you have afforded me. I can't put into words what you have meant, not only to myself, but to those you have come into contact with over these past years. I believe we first meet in1984, the year you were Senior Warden of Valley Lodge #511, F.&A.M. Starting the next year, when you were Master of Valley Lodge, we have had the pleasure to work together and on different projects over the years even though we belonged to different Lodges. You have always been willing to listen and go the extra mile to see that a project was completed. We won't mention the practical jokes, but will always remember them, I hope with smiles and good memories.I could go on and on about some of the past times we have had, but I won't. I just want to say this: not only for myself, but for all the Brothers of both Shively (951) and Valley (511) Lodge, congratulation on a job well done and we are very proud of you and the way you have presented yourself as our Grand Master. May God be with you in your future endeavors.