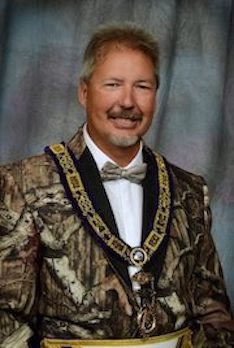 P. Todd Jones
Most Worshipful Grand Master
Grand Lodge of Kentucky
2016-2017
Paul Todd Jones of Ewing was installed as Grand Master of the Grand Lodge of Kentucky, Free and Accepted Masons, on October 18, 2016 in Louisville, Kentucky for the 2016-2017 Masonic Year.
Selecting the theme of "Four F's" (faith, family, fraternity and fun), the Grand Master brought his fraternal experience, as well as his enthusiasm, to Kentucky's premier Masonic office. In addition to his theme, he often used the slogan, "To have Masons, we must be Masons". By the end of his year in the Grand East he had traveled over eight-thousand miles a month and attended over two-hundred and fifty Masonic functions and events across the commonwealth.
Born in Marion, Indiana in 1967, his family moved to Ewing in 1980 where he later attended Fleming County High School. In 2012, he married Laura. They have four children (one deceased) and seven grandchildren.
For the past thirty-years, he has owned and operated Todd Jones Lawncare, LLC, with contracts for mowing over 600 acres a week at industrial sites and plants, housing centers and schools.
He was initiated into Freemasonry in 2001 at Fleming No.112 where he was raised to the sublime degree of Master Mason in 2002 and later elected Master of the lodge. He is a dual member of Favorite No. 581 in Ewing, Kentucky. He served as Deputy District Grand Master for District 23 in 2012 then elected to Grand Junior Warden in 2013.
An avid hunter, he has hunted throughout the Western United States and South America. During his year as Grand Junior Warden, Brother Jones secured a highly coveted "Elk Tag" from the Kentucky State Department of Fish and Wildlife. A limited number of tags are offered each year and as an incentive to purchase a chance at winning the tag, sponsorships were acquired from Mossy Oak and Honda for a televised hunting excursion and an ATV. The effort raised over $15,000 for the children of Kentucky to attend fishing and hunting camps and wildlife clinics across the state. The televised broadcast of the winner's elk hunt reached 45 million viewers.
He has provided service and leadership within the family of Freemasonry by his membership, involvement and contributions to the Scottish Rite, Valley of Covington where he was recently nominated for Knights Commander of the Court of Honor, the York Rite, Highland Council No. 104 (Knight Masons), Chapter Council and Commandery, York Rite College in West Liberty and El Hasa Shrine in Ashland.