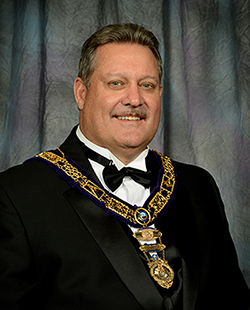 Timothy D. Sanders
Most Worshipful Grand Master
Grand Lodge of Kentucky
2017-2018
One of the joys of my years in masonry has been watching members advance both as masons and as good citizens. Tim has made me particularly proud, and it is an honor to be able to write this historical biography.
Timothy (Tim) Dean Sanders was born on September 18, 1958 at St. Joseph's Infirmary in Louisville, Kentucky. Tim's parents were Elmer Dean and Virginia Frances Hester Sanders. His parents were both born in Jefferson County, Kentucky. Both sets of Tim's grandparents were originally from Edmonson County and the surrounding counties before moving to Louisville, Kentucky during the Great Depression. Tim was the middle child born to his parents. He has an older sister, Brenda June Sanders Gross, (Daniel) and a younger sister, Teresa Ann Sanders Ormes (Patrick). Tim is deeply devoted to his family. He is the proud father of Christopher Ryan Sanders (Master Mason at McNeil Lodge # 586) and Morgan Brittany Sanders and the extremely proud Grandfather of Lincoln Earl, Savannah Rose, and Haddie Blake. Tim and the First Lady, Sue O'Rairden Steverson-Sanders, were married on May 16, 2009 in Lebanon Junction, Kentucky. Their extended family includes Sue's son, John Hileman, his wife, Katie, and their family. In addition, Tim has one nephew, Brian Lee Gross and two nieces, Tamara June Gross Stanfield (Everett) and Rebecca Ann Gross Gore (Andrew). He has one great nephew and two great nieces.
Tim began his formal education attending Jefferson County Schools. After his family moved to Bullitt County, Kentucky while he was in Junior High School, he enrolled in Bullitt County Schools and graduated from Bullitt Central High School in 1977. After graduation of high school, he attended the University of Louisville.
Tim began his affiliation with the Masonic Order as a teenager when he was initiated in the Order of the DeMolay, Cherokee Chapter, which met at Suburban Lodge, No. 740, in Louisville, Kentucky.
Tim's father, Elmer Dean Sanders, was a member of Highland Park Lodge No. 865, as well as, the Scottish Rite, Kosair Shrine and Lebanon Junction Chapter No. 72, Order of the Eastern Star. Tim's mother, Virginia Frances Hester Sanders, was a member of Lebanon Junction Chapter No. 72, Order of the Eastern Star. She served many years as the Organist (pianist) of her Chapter. Tim had several uncles who were Masons. Tim's older sister, Brenda, is a member of Lakewood Chapter No. 162, in Lovejoy, Georgia. His Brother-in-law, Daniel Lee Gross, is Past Master of East Point Lodge, No. 288, in Peachtree City, Georgia. Tim, along with his siblings and other family members, helped to care for both of his parents in their declining years of life. The First Lady's project, "Remember Me", is lovingly in memory of Tim's mother, Virginia Sanders, who suffered from dementia in the final years of her life. Hopefully, this project will be of help to others at the Sam Swope Center, on the grounds of the Masonic Home in Louisville, who may suffer from this condition.
In addition to Tim's many Masonic affiliations, he is a member of Fairdale United Baptist Church in Fairdale, Kentucky. Tim has served his community as a member of the Lebanon Junction, Kentucky City Council since 1992. At the time of this printing, he is still serving in that capacity. Tim retired from Publisher's Printing Company in Lebanon Junction, Kentucky in 2017 after 34 years of faithful and dedicated service.
Tim enjoys spending time with his family and friends. He has traveled extensively across the Commonwealth of Kentucky while serving in many roles within the Masonic Order. He has often said he wished his father, Elmer Dean Sanders, had lived long enough to travel the Commonwealth with him. We are confident both of his parents would have been very proud of his service to others through his Masonic affiliations, his service to his community, and his devotion to his faith, family and friends. Tim has always been blessed with an outgoing personality and a love for people. He never meets a stranger and is always proud to call you his friend. Among his many strong attributes is his love for his family, friends, community, State and Country. As his parents taught him, he has always been totally committed to doing his best at whatever his task may be. He is admired and respected by family and friends for his many endeavors. Tim has always been faithful to give God the glory for whatever accomplishments he has made in his life.>
Masonic History Symbolic Masonry Tim was initiated as an Entered Apprentice into Polar Star Lodge A.F.&A.M. # 79 in St. Louis, MO. on 06/04/1982, Passed to the degree of a Fellow Craft on, 07/06/1982, Raised to the sublime degree of a Master Mason on 09/03/1982. MM Proficiency 06/21/2009. Affiliated by transfer to McNeil Lodge 586 on 03/24/2009 Affiliated by Plural Membership to Morrison Lodge No. 76 on 01/20/2011 Affiliated by Plural Membership to William O. Ware Lodge of Research on 10/23/2012.
32°KCCH Louisville Scottish Rite
Bullitt Chapter #44 RAM
Bullitt Council #114 R&SM
Louisville DeMolay #12. KT
Highland York Rite College
Knights Masons
Allied Masonic Degrees
Cherokee Chapter of DeMolay
DeMolay Legion of Honor
Elizabethtown #174 O.E.S.
Kosair Shrine
Morrison Lodge F.&A.M. #76
McNeil Lodge F.&A.M. #586
He regularly moved through the chairs and was elected as Master Morrison Lodge #76, 2012. Treasure of Morrison Lodge #76, 2013, and continues to hold that office. He worked his way through the chairs At McNeil Lodge #586 and was Master in 2016. He is also a member William O. Ware Lodge of Research #999 District Deputy Grand Master 2012-13 Grand Marshal 2013-14 And was elected to the following offices Grand Junior Warden 2014-15 Grand Senior Warden 2015-16 Deputy Grand Master 2016-17 Grand Master 2017-18 Additionally, he holds honorary membership of numerous lodges.
Tim has promoted programs for our Widows and Orphans, One of his favorites the Veterans program and the Masonic Homes. He has continued the program in which Masonic Lodges provide bicycles to local schools to be given as attendance incentives. This provides a variety of possible benefits including: improvement in school work; increased funding for schools (as funding is based on attendance); increased graduation rates; and promotion of masonry to the public. At the end of July 2017 more than 2,000 bicycles have been donated.
In order to promote Masonic knowledge, Tim continued to developed educational studies (WEBCAST), and quiz on the Constitution of the Grand Lodge of Kentucky, Each brothers that participates and passes the test and received a Constitutional Scholars certificates from the Grand Lodge.
Tim is very knowledgeable who effectively leads by example. He has shown a remarkable dedication to the craft, his priority is to attend Lodges across the Commonwealth to see our fraternity prosper and grow. Tim maintains a highly professional activities, civic duties, and Masonic duties. He maintains long hour days. While I hope that he can have more free time, I fully expect him to continue to be a strong resource to McNeil #586, Morrison #76, the Grand Lodge, and Masonry in general.
After addressing the craft on his visits to the lodges he closes with, "Brothers we need to love one another, take care of our widows, and orphans, and be the Men you professed to be when we knelt at the altar."